Here are all my postcards for sale! Most are $1!
Last Sale was...months ago, I think!

I have feedback (400+ tokens, 100% Positive) on MUA and Specktra under kayley123:
MUA:
Profile: http://www.makeupalley.com/p~kayley123
Tokens: http://www.makeupalley.com/swap/tokens.asp/u=kayley123

Specktra:
Profile: http://www.specktra.net/forum/members/kayley123/
iTrader: http://www.specktra.net/forum/itrader.php?u=70145

Shipping: approx. $3 (Inquire for International shipping) for up to about 4-5 postcards...Depending on how many you buy I may have to get a different mailer which will add to the cost.

-If for some reason you cannot see the pictures there, I will be happy to email them to you.
-I will hold items for 24 hours after invoicing!
-PLEASE LEAVE YOUR FEEDBACK AND PAYPAL WHEN YOU COMMENT!
--I am the USA!
-IMPORTANT, regarding INTERNATIONAL SALES: a postal receipt and customs number will be my proof of shipment, in buying from me you are agreeing that i hold no liability if the package is lost. I use FIRST-CLASS international shipping, which does NOT have tracking; if you want tracking, you will have to pay extra, and it is pretty expensive.
-For PayPal payments--if you will pay the fees, I will take whatever method of payment. New policy for PayPal requires fees for any transaction that is not Personal! (If I send you an invoice, fees will automatically apply since it is obviously a sale. I use ppcalc.com/http://www.rolbe.com/paypal.htm)
-If you would like to see the new Paypal fee policy, here is a link: https://www.paypal.com/us/cgi-bin/webscr?cmd=_display-fees-outside
-If you want to use another method of payment, please talk to me about it!

Pictures are below, more in my photobucket HERE: http://s251.photobucket.com/albums/gg297/kayley_photo_bucket/MAC%20Postcards/
I can take closeups of any of them also, just ask!

All Cards are $1 each unless noted! Let me know if my prices aren't reasonable...will make deals if you buy a lot!
I have done my best to put these in the right order (by month, year) but I may have made some mistakes!
I AM open to haggling...within reason, please!

2002:
Lustre Lips (4x6) minor crease, one slightly larger/deeper one - $2
PROM (4x6)--$2

2004:
February: Hipnotique--$4
March?:
Viva Glam V, Every Day is World Aids Day at MAC
-Pamela Anderson
-Christina Aguilera (2, one with Salsabelle event announcement on it),
-Chloë Sevigny (in Spanish, has dirt? smudge on back)
-Viva Glam V Every Day is World Aids Day at MAC--BOY GEORGE (more rare, also has Salsabelle event announcement on the back of it)--$10

2005:
February: Diana Ross – Beauty Icon 2 (2, 1 in Spanish)
Madame B (2)
September: Naturally Eccentric
October: Ornamentalism

2006:
February?: Catherine Denueve -Beauty Icon 3--$3
May: Sundressing (have 2, 1 Singapore edition with Tangs/Isetan on back)
June: Lure
August: Untamed (2, 1 with Selfridges info)
Holiday 2006 Kids Helping Kids mini cards SIP (still in bag/package)--7 cards left (out of 12); 3 of 3 designs (mostly pink, green, purple/background color), 1 of another (dark blue)--$5
VivaGlam Lipstick 06: Every Day is World Aids Day at MAC
-individual card with all 4 divas (only sent with orders, rare!—Eve, Lisa Marie Presley, Debbie Harry, Dita von Teese--$3
--1 set vertically connected, with 4 divas (on separate cards—Eve, Lisa Marie Presley, Debbie Harry, Dita von Teese)--(This set has Dita as a pin-up girl sitting in a champagne glass)--$5 for the set
+ extra Dita to throw-in

2007:
February?: Raquel Welch - Beauty Icon 4 (Debenhams)--$2
Fall 2007 mailer/product book (in envelope): Matte2 or Matte2 (early October), Plushlash (early October), Mattene (late September)—HAVE 2, 1 creased

Not sure if this is 2007 or 2008:
Viva Glam VI:
-Fergie
-Dita

2008:
January: Naked / N Collection -vertical booklet with film cover (close up of model putting on lipstick and lipsticks printed on film) & vertical haircurlers card--$3
August: Cult of Cherry foldout mailer (Tangs, from Singapore)--$2
Holiday 2008 Kids Helping Kids mini cards SIB (still in red box) (Red She Said, I think) Set of 12, 10 left, 2 each of 5 designs--$5

2009:
January?: Dame Edna trifold
May: Style Warriors invite mailer, foldout with pictures - $2
Style Black foldout-very minor creasing (Singapore or Thai edition?)
Dsquared-very minor creasing (Singapore or Thai edition?)
Kids Helping Kids Gift Tags (Holiday 2009); full set of 12, unused--$5

2010:
May: Opulash slight scratches/damage


Viva Glam Postcards with and without flash: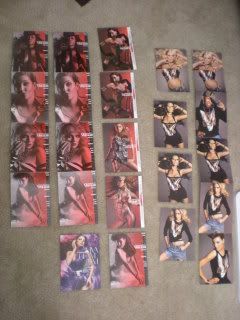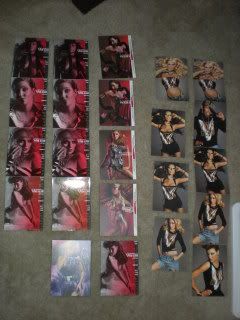 Hello Kitty and Holiday Card set closeup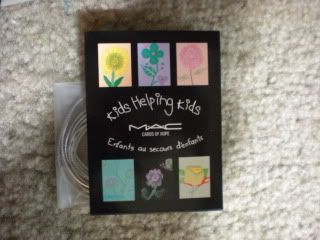 Other Holiday card sets: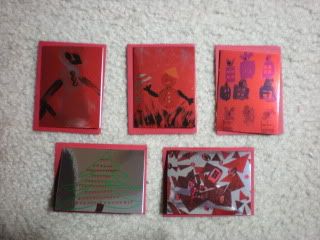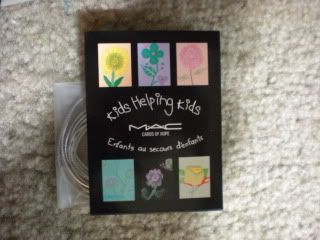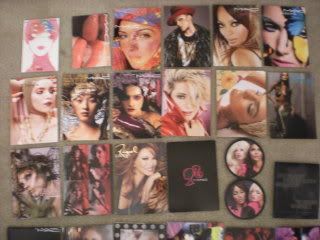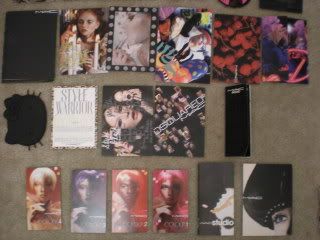 MORE PICS/CLOSEUPS IN PHOTOBUCKET LINK, AND WILL ALWAYS TAKE MORE IF NEEDED!
http://s251.photobucket.com/albums/gg297/kayley_photo_bucket/MAC%20Postcards/
ISO:
The only things I'd consider for trade are things on my MUA wishlist, HERE:
www.makeupalley.com/swap/items.asp/u=kayley123/type=2/
Or these postcards:
-Sparkle-Ize
-Febuary 2007 Lightful Color Asia Exclusive

Would consider:
-Sweetie Cake
-Starflash
-Matte2 (Matte Squared)
-